Black Rifle Secrets
Ever since it's introduction as a space-age wonder rifle into the Vietnam conflict in the 1960's, the AR-15/M-16 has been surrounded by mystery and myth, legend and lore … and secrets. Some of today's best kept secrets are guarded by Toolcraft Inc of Marion North Carolina. Toolcraft is a provider of bolt carrier groups (BCGs) to AR-15 Original Equipment Manufacturers (OEMs) and the U.S. Military. Toolcraft manufactures the carriers to manufacturer's specifications and sources the bolts from U.S. suppliers.
Who does Toolcraft make BCGs for?
This is the first secret and it is a closely guarded one. We simply don't know. The answer likely changes over time as well. We do know that they make a LOT of them – 9,000 per week according to their website! The only way an end-user can be really sure they have a Toolcraft BCG is to buy one from a Toolcraft dealer like SpiceTac.
When it comes to finishes, calibers or custom dimensions, the sky is the limit. Some currently available finishes include Black Nitride, Nickel Boron, Manganese Phosphate, Ionbond DLC, and Titanium Nitride. Toolcraft has done chrome finishes in the past, but infrequently. Calibers include 5.56 NATO, 308 Winchester, 9mm X 19, 6.8 SPC, 6.5 Grendel, 458 Socom, and 7.62 X 39.
What steel is a Toolcraft carrier made from?
The carrier is the superstructure of the BCG and it's within the Toolcraft carrier that another secret lies. Most carriers used in AR15 BCGs today are made from 8620 steel and Toolcraft carriers are no exception. It's the exact blend of 8620 that is the secret. Toolcraft uses a proprietary formulation of 8620 steel that they describe as being the "best Aircraft Quality 8620 steel" available.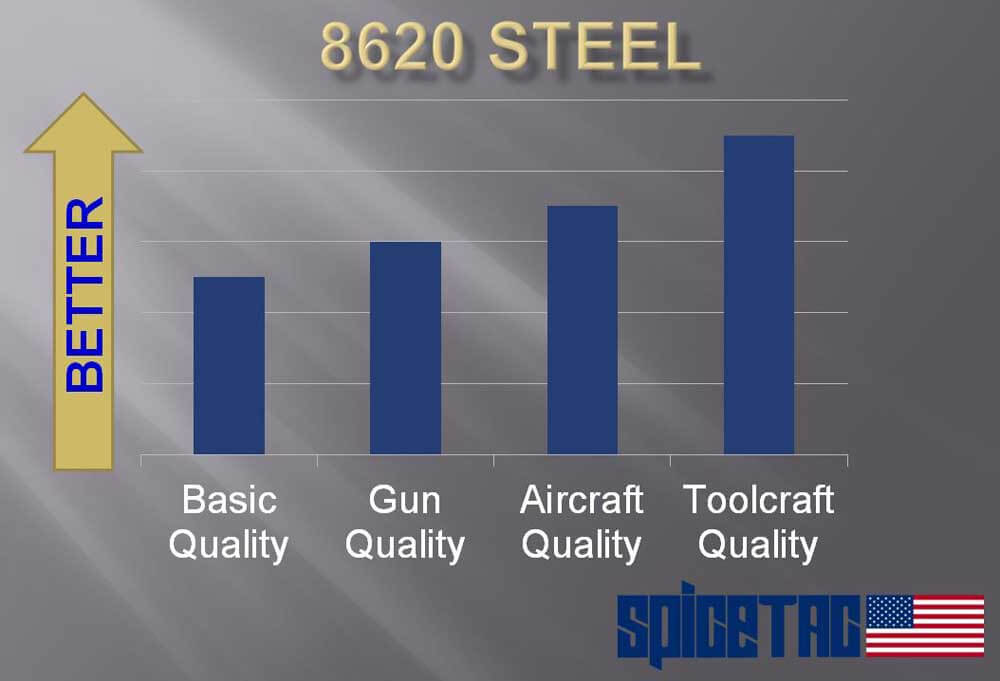 Above: All 8620 steel is not made equal. Toolcraft uses some of the best available 8620 steel for their carriers.
Toolcraft takes this proprietary 8620 steel, machines it, hardens it and then machines it again to precise final dimensions with very high tolerances. This makes for a BCG with a very smooth finish and little or no machining marks.

Above: Precision machining results in a smooth finish on this Toolcraft BCG with little to no machine marks.
Shots Fired!
For this review I built an AR-15 pistol with an 11.3" Ballistic Advantage Hanson barrel, Aero Precision upper and lower receivers and a Toolcraft BCG in Black Nitride. During it's first two range sessions this pistol fired 1100 rounds without a failure or malfunction of any kind and without any cleaning. The BCG was lubricated with oil in the beginning and again at the 500 round point. Ammunition used included Federal M193, Wolf Gold and PMC FMJ.
Above: When an AR-15 is properly built using quality parts, including in this case a Toolcraft BCG, they are boringly reliable.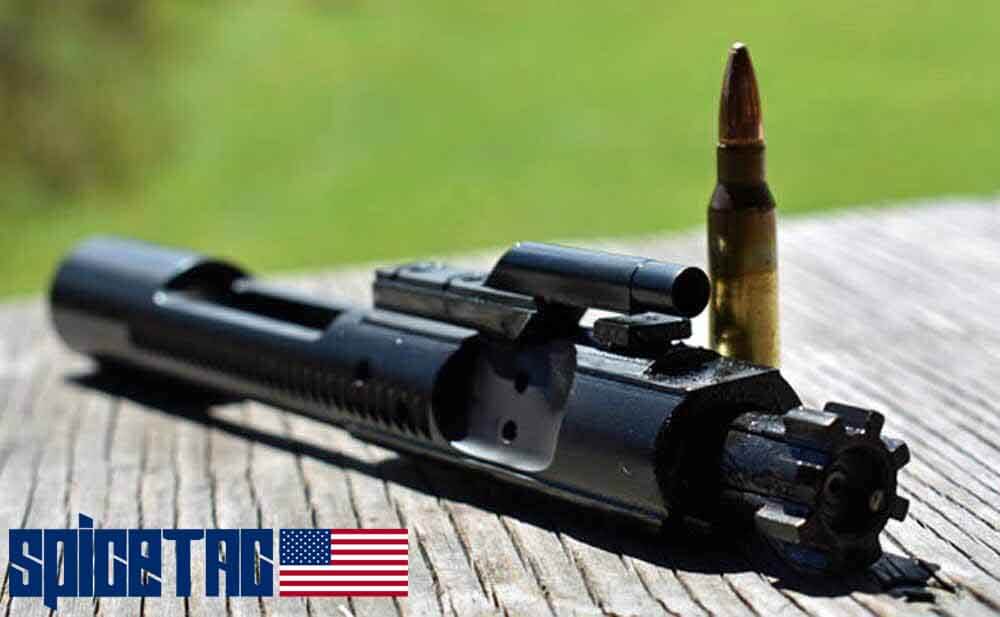 Above: After 1100 rounds this Toolcraft BCG is filthy but the AR15 continues to run reliably.
Black Nitride Finish
IMO, the Black Nitride finish is the best bang for the buck of the black BCG finishes. It is a super hard finish that runs smooth and is both easy to clean and easy on the wallet. For a comparison of the top 3 black BCG finishes see our article The Best Black BCG Finish - Phosphate vs Nitride vs DLC.
What about the bolts?
Toolcraft BCGs are generally available with bolts made from either 9310 or Carpenter 158 steel. They are batch High Pressure Tested (HPT) and every bolt is Magnetic Particle Inspected (MPI). Markings on the bolts vary with some being marked MP or MPI and some being marked 9310 or C158. It is more common though for the bolts to not be marked in any way.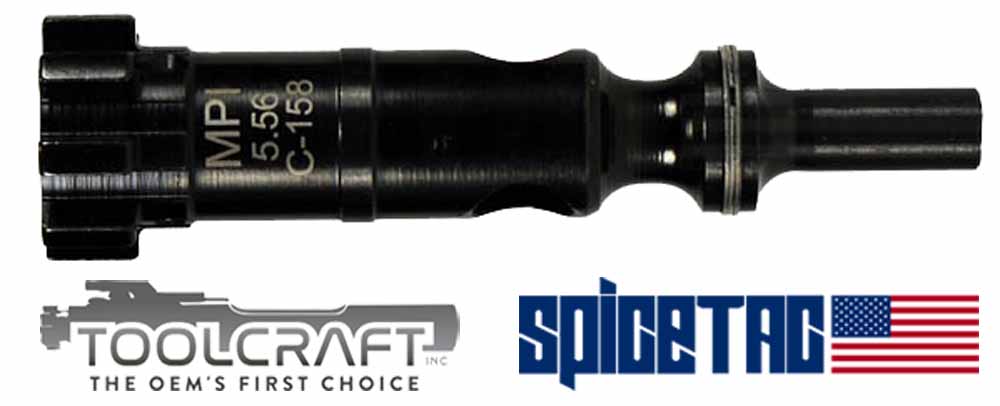 Above: This Toolcraft bolt is made from Carpenter 158 steel and marked as such. Sometimes Toolcraft bolts are marked and some times they are not.
The bolts come with a standard power extractor spring and a mil spec Viton O-ring for extra positive case extraction. This is a proven combination. I have never seen a case extraction failure when using a BCG with a Viton O-ring including when shooting steel cased ammo. I personally like either this combo or an extra power extractor spring without the O-ring.
Above: This bolt is disassembled to show the extractor with its Viton O-ring around the extractor spring. A very simple solution that increases extractor tension and overall reliability.
The Final Secret
The final secret of this story is probably Toolcraft itself. Though well known in the OEM community and among AR-15 manufacturers (to the tune of ~9,000 BCGs a week), Toolcraft understandably doesn't have the same level of name recognition in the consumer market.
As a result, at the consumer level, Toolcraft BCGs are usually only sought out by a small but savy group of AR-15 enthusiasts that have done the research and are privy to a secret that's becoming increasingly well known - that Toolcraft BCGs are an incredible value in a crowded and competitive AR-15 parts market. And that just might be the Best Black Rifle Secret Ever!

Toolcraft Black Nitride BCG 556 Specs
| | |
| --- | --- |
| Bolt | Shot Peened; MPI |
| Bolt Material | 9310 or Carpenter 158 (C158) Steel |
| Bolt Finish | Black Nitride |
| Caliber | .223 | 5.56 NATO | 300 Blackout |
| Extractor O-ring | Viton; Mil Spec |
| Carrier Material | 8620 Steel, Toolcraft Proprietary |
| Carrier Finish | Black Nitride |
| Carrier Design | M16 Full Auto Style |
| Gas Key Material | 4130 Steel |
| Cam Pin Material | 4140 Steel |
| Cam Pin Finish | Black Nitride |
| Firing Pin Material | 8740 Steel; Hard Chrome Plated |
Can't get enough Toolcraft? See these:
Toolcraft Diamond DLC BCG Review - The Best BCG Ever Made?
Toolcraft Nickel Boron BCG Review
Toolcraft Chrome Phosphate BCG Review
Shop Toolcraft BCGs here: Toolcraft
See Toolcraft BCG images here: Toolcraft Gallery.
Recent Posts
What is the MAG Qual? The Massad Ayoob Group (MAG) Qual is …

If you like convenience, selection and low prices, you owe it to yourself to shop online …

The bolt carrier group is the heart of your AR15. Let's look at some of the best! There a …