History
The story of the M-16's procurement and the evolution of its components over time is fascinating to a gun-nut like me. The bolt carrier group (BCG) is an important part of that story.
As Eugene Stoner designed it, the BCG was originally chrome plated inside and out. This was an excellent finish for a component that would see harsh conditions especially considering the dirty nature of the rifle's newly patented "direct impingement" system.
Over time however, probably driven more by cost than anything else, the chrome finish gave way to a less expensive manganese phosphate finish. Chrome was retained on the interior of the gas key and the carrier where the bolt and gas rings ride.

Chrome lining inside Toolcraft carrier can be seen with light coming in from the cam pin slot
With few exceptions, this is the chrome phosphate BCG that the military uses today and is the subject of this review.
Proprietary Carrier Steel
82% of the weight of a full-auto bolt carrier group is in the carrier. (9.5 oz. of 11.6 oz. on the one used for this review). If you can improve on the material the carrier is made from then you have made a better BCG. It's just that simple, and that is exactly what Toolcraft has done.
Most AR-15 BCG carriers are made from "gun quality" 8620 steel which is a very good steel. Toolcraft carriers are not made from this steel. They're made from something better. Something nobody else has - Toolcraft Proprietary Aircraft Quality 8620 (TPAQ 8620) steel. Toolcraft describes this blend as being the "best Aircraft Quality 8620 steel" available.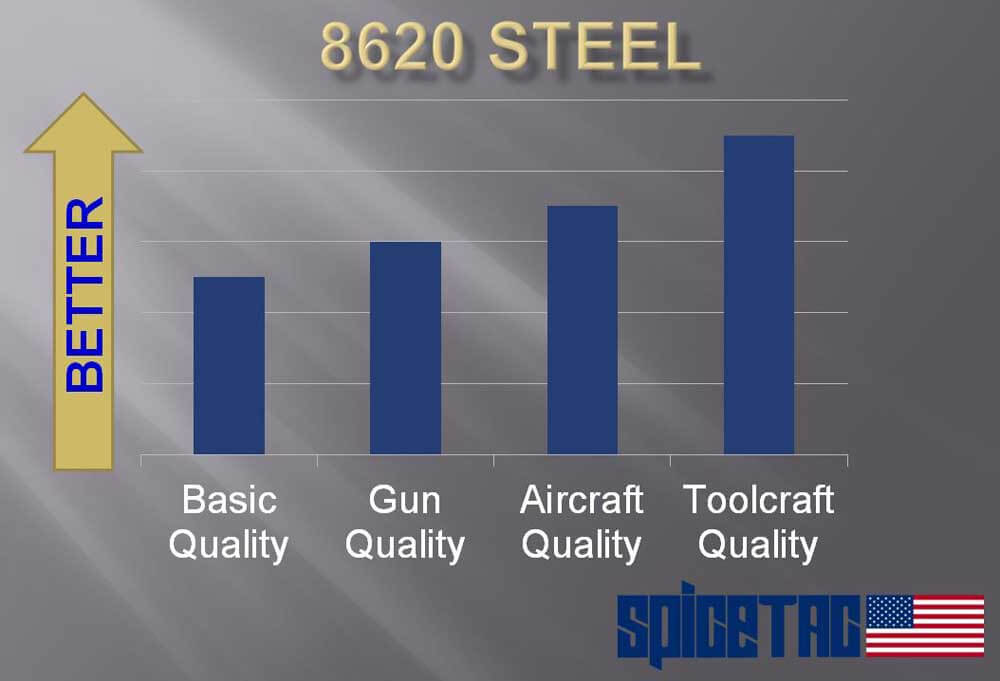 Toolcraft uses an improved grade of 8620 steel
Toolcraft takes this TPAQ 8620 steel, machines it, hardens it and then machines it again to precise final dimensions with very high tolerances. This makes for a metal finish that has a very smooth finish and little or no machining marks.
Once the carrier is finished in MIL-SPEC manganese phosphate it really is a thing of beauty. It's not a slick finish like nitride but instead has a velvety texture to it that feels good in the hand.

Old school phosphate has a good feel in the hand
Cherished by traditionalists and lauded for it's ability to "hold oil", the phosphate finish will wear smooth on the contact and wear points like the carrier rails. A brand new phosphate BCG can need a little extra oil to run well until all the parts break in and the finish smooths out.
Mil-Spec Carpenter 158 Bolt
The bolt in this particular bolt carrier group is made from MIL-SPEC Carpenter 158 steel. It just seemed right to pair a MIL-SPEC chrome phosphate carrier with a MIL-SPEC steel bolt.
Carpenter 158 has proven itself to be a dependable bolt steel in every conflict since the Vietnam War. While other more modern steels have arrived on the scene and are in use in AR15 bolts, Carpenter 158 continues to soldier on reliably and unfailingly.

Toolcraft bolt marked C158 for the MIL-SPEC Carpenter 158 steel it is made from
Even a great bolt steel like C-158 won't overcome one weakness that the AR-15 has shown over the years as it evolved to shorter barrels and gas systems - weak extraction. The extractor spring that worked well for the 20" AR-15 has often proven to be too weak to reliably extract cases on shorter barreled AR-15s. Not all the time, but the shorter the barrel and gas system and the harsher the firing schedule, the more pronounced the problem.

Addition of Viton O-ring ensures positive case extraction. Shown with chrome plated firing pin.
One early solution, and still a good one, was the use of a Viton O-ring around the extractor spring. This O-ring greatly increases extractor tension and largely overcomes this problem. This chrome phosphate BCG, like all the Toolcraft BCGs we sell, has this Viton O-ring on the extractor for the increased reliability it provides.
Good to Go
The Toolcraft chrome phosphate BCG is true to the original in form, fit and function. Through a combination of both proprietary improvements (carrier steel) and modern improvements (Viton O-ring), the Toolcraft offering is at least as good if not better than the original. It's a solid choice that won't let you down. All Toolcraft bolt carrier groups are backed by the Toolcraft Lifetime Warranty.


Toolcraft Chrome Phosphate BCG disassembled
Toolcraft Chrome Phosphate BCG 556 Specs
Bolt Shot Peened; MPI
Bolt Material Carpenter 158 Steel
Bolt Finish Manganese Phosphate
Caliber 223 | 5.56 NATO | 300 Blackout
Extractor O-ring Viton; Mil Spec
Carrier Material 8620 Steel, Toolcraft Proprietary
Carrier Finish Manganese Phosphate | Chrome Lined
Carrier Design M16 Full Auto Style
Gas Key Material 4130 Steel
Cam Pin Material 4140 Steel
Cam Pin Finish Manganese Phosphate
Firing Pin Material 8740 Steel; Hard Chrome Plated
Shop Now: Toolcraft Chrome Phosphate BCG
Compare the top 3 black BCG finishes: The Best Black BCG Finish - Phosphate vs Nitride vs DLC
See our review of the Toolcraft Black Nitride BCG: Toolcraft BCG - Best Black Rifle Secret Ever?
Shop all Toolcraft BCGs here: Toolcraft
Recent Posts
What is the MAG Qual? The Massad Ayoob Group (MAG) Qual is …

If you like convenience, selection and low prices, you owe it to yourself to shop online …

The bolt carrier group is the heart of your AR15. Let's look at some of the best! There a …