Diamond-Like Pedigree
A Toolcraft DLC Bolt Carrier Group (BCG) is, first and foremost, a Toolcraft BCG. This means that, if we knew nothing else, we know it has excellent materials, top notch workmanship and a Lifetime Warranty. Is there something that sets this particular bolt carrier group apart from the others in the lineup? Is there something that makes this BCG the best Toolcraft BCG? How about the best BCG ever?
Beyond the pedigree, there are 3 specific features that this BCG has that together give it a shot at the title of "Best Ever". Let's get to it!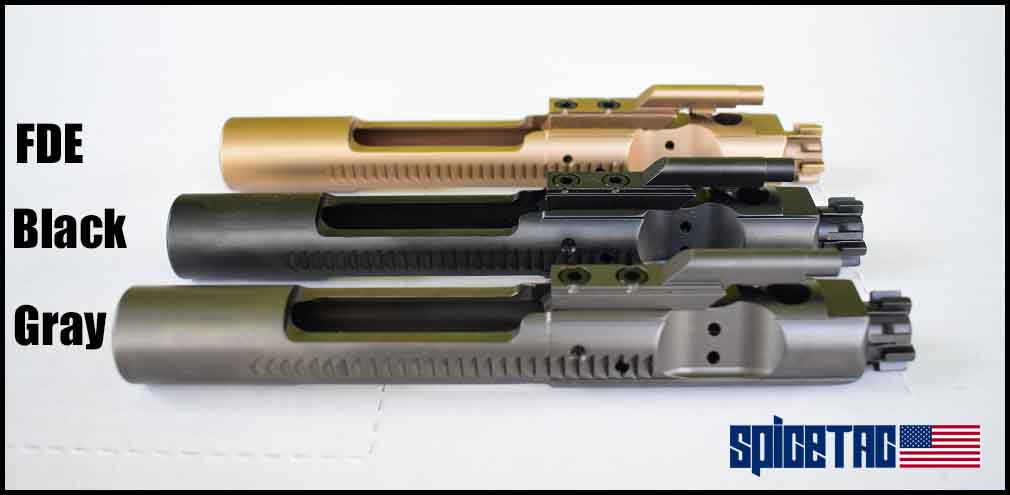 Above: Three different DLC colors
Shop our collection of DLC BCGs here: DLC BCG
Proprietary Carrier Steel
82% of the weight of a full-auto BCG is in the carrier. (9.5 oz. of 11.6 oz. on the one used for this review). If you can improve on the material the carrier is made from then you have made a better BCG. It's just that simple, and that is exactly what Toolcraft has done.
Most AR-15 BCG carriers are made from "gun quality" 8620 steel which is a very good steel. Toolcraft carriers are not made from this steel. They're made from something better. Something nobody else has - Toolcraft Proprietary Aircraft Quality 8620 (TPAQ 8620) steel. Toolcraft describes this blend as being the "best Aircraft Quality 8620 steel" available.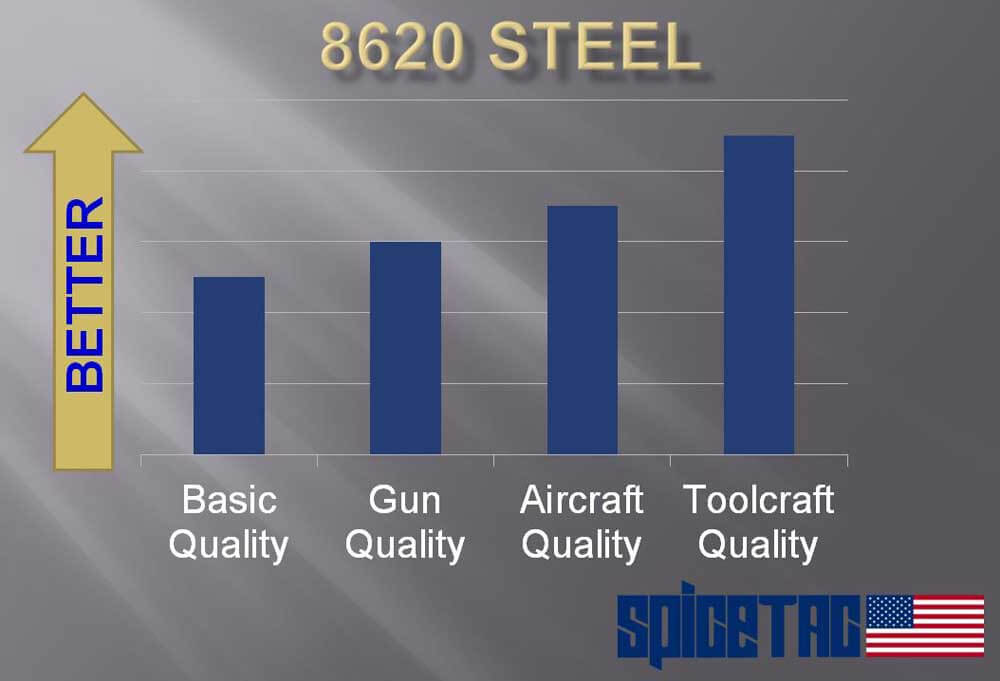 Above: Toolcraft carrier steel compared to other common 8620 steels
Toolcraft takes this TPAQ 8620 steel, machines it, hardens it and then machines it again to precise final dimensions with very high tolerances. This makes for a metal finish that has a very smooth finish and little or no machining marks.

Above: Smoothness of Toolcraft machining can be seen in this photo
Bolt (Mil-Spec or Better Than Mil-Spec)
The bolt is the remaining ~2 oz. of the weight of this BCG and to say it's an important part would be an understatement. The bolt takes the full brunt of the 87 Trillion psi (exaggeration) of pressure every time you light off a 5.56 NATO M193 round. It's what stands between your pretty face and that controlled explosion inches away.
It has to be tough.
If the bolt can be made from steel that has been proven - time and again - on battlefields where blood, sweat and tears were wagered - and life and death was won and lost - I want that. For this reason, we offer Toolcraft DLC BCGs with Mil-Spec Carpenter 158 steel bolts.
We also offer the Toolcraft DLC BCG with a 9310 grade tool steel bolt. This bolt steel is 7% stronger than even Carpenter 158 steel.

Above: SpiceTac specifies MIL SPEC Carpenter 158 steel for the bolts in our Diamond DLC BCGs
Even great bolt steels like 9310 and C-158 won't overcome one weakness that the AR-15 has shown over the years as it evolved to shorter barrels and gas systems - weak extraction. The extractor spring that worked well for the 20" AR-15 has often proven to be too weak to reliably extract cases on shorter barreled AR-15s. Not all the time, but the shorter the barrel and gas system and the harsher the firing schedule, the more pronounced the problem.
DLC BCGs - SpiceTac | AR-15 Parts

Above: Viton O-ring can be seen around the extractor spring on this DLC bolt carrier group extractor
One early solution, and still a good one, was the use of a Viton O-ring around the extractor spring. This O-ring greatly increases extractor tension and largely overcomes this problem. The Diamond DLC BCG, like all the Toolcraft BCGs we sell, has this Viton O-ring on the extractor for the increased reliability it provides.
Diamond Like Carbon (DLC) Coating
I'm far from an expert on metal finishes, but the Ionbond Diamond Like Carbon (DLC) finish seems to be one of the best finishes available. If you dive into the technical you can read about the Physical Vapor Deposition (PVD) process, dense highly ionized plasma and metal ions.
For me it's enough to know that DLC is a favorite coating in heavy industry for use on drill bits. It's a tough, corrosion proof coating that has a low coefficient of friction and bonds so tightly to the base metal that it's nearly indestructible.
Above: The Ionbond DLC finish is commonly applied to drill bits used in heavy industry
All surfaces of the carrier and gas key are finished in DLC as well as the bolt, extractor and cam pin. Some small parts such as the ejector and the extractor pin are often not DLC finished, but this just depends on the batch. The firing pin is hard chrome plated 8740 steel.
The color of the DLC finish is a business-like grey, just a shade lighter than the dark black of Black Nitride. It has a no-nonsense look to it and shows a nice contrast against the typical black anodized finish of the AR-15.

Above: The grey business-like DLC finish looks good against the black anodizing of this Aero upper receiver
The Verdict
Sometimes the total can be more than the sum of the parts. Every part of this Toolcraft DLC BCG is borne of superior materials and excellent craftsmanship before being exquisitely finished. Taken together, does that total up to a shot at the title of Best BCG Ever Made?
I'll let you be the judge of that. All I can say is that if I could go back in time and do things different there would be a lot more "Diamonds" in my personal ARs right now!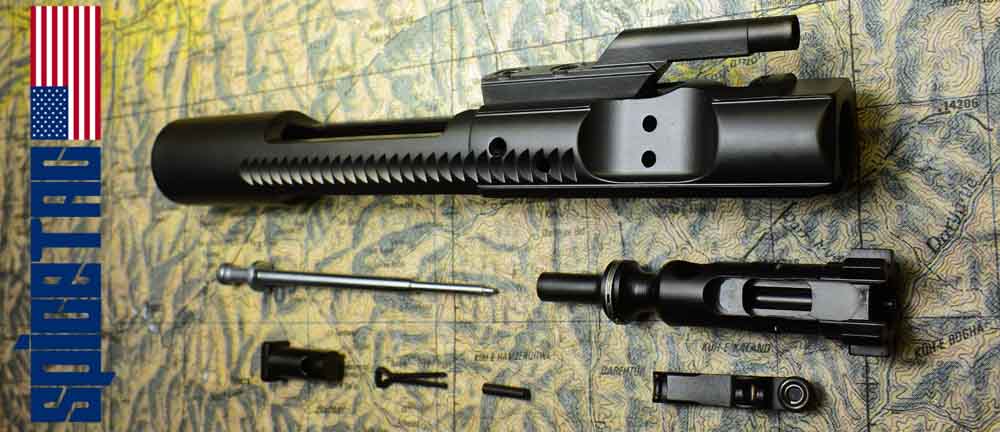 Above: Disassembled Toolcraft Diamond DLC BCG showing carrier with gas key, firing pin, cam pin, firing pin retaining pin, bolt, extractor assembly and extractor pin.
Toolcraft Diamond DLC BCG 556 Specs
| | |
| --- | --- |
| Bolt | Shot Peened; MPI |
| Bolt Material | Carpenter 158 Steel or 9310 Grade Tool Steel |
| Bolt Finish | Diamond-Like Carbon (DLC) |
| Caliber | 223 | 5.56 NATO | 300 Blackout |
| Extractor O-ring | Viton; Mil Spec |
| Carrier Material | 8620 Steel, Toolcraft Proprietary |
| Carrier Finish | Diamond-Like Carbon (DLC) |
| Carrier Design | M16 Full Auto Style |
| Gas Key Material | 4130 Steel |
| Cam Pin Material | 4140 Steel |
| Cam Pin Finish | Diamond-Like Carbon (DLC) |
| Firing Pin Material | 8740 Steel; Hard Chrome Plated |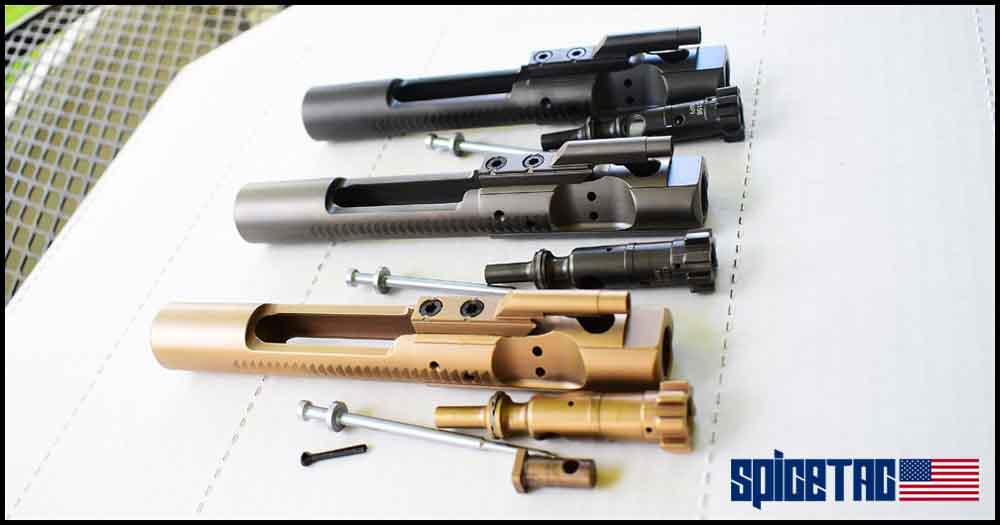 Shop Diamond DLC BCGs in three colors: Black DLC BCG, FDE DLC BCG and Gray DLC BCG!
Compare the 3 top black BCG finishes: The Best Black BCG Finish - Phosphate vs Nitride vs DLC
See our review of the Toolcraft Black Nitride BCG: Toolcraft BCG - Best Black Rifle Secret Ever?
Shop all Toolcraft BCGs here: Toolcraft
Recent Posts
Shopping for body armor online? There are many good online stores to choose from. Check …

Better selection, better prices. That is why I buy guns online and you should too! There …

The Maglula UpLULA Universal Pistol Magazine Speed Loader. Funny name, great product! Lo …