With the current ammunition shortage continuing into its second year, a major source of imported ammo is about to go the way of the dodo bird.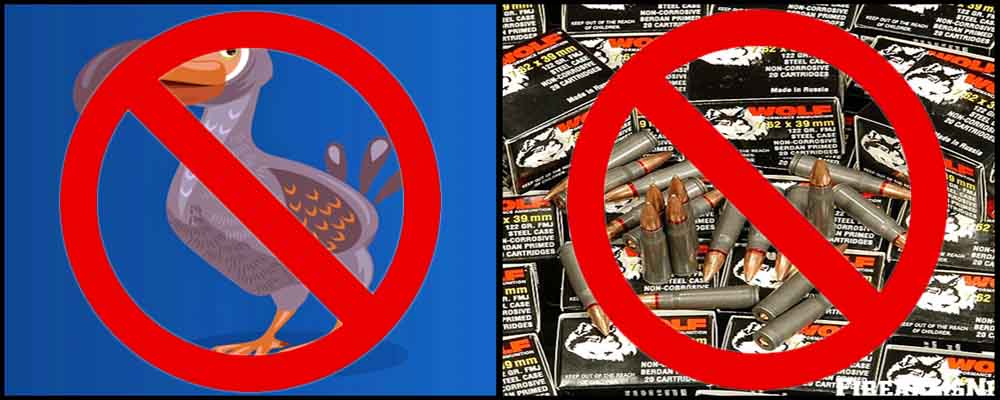 Summary of Facts:
- Effective September 7th 2021, the Biden Administration will no longer approve new permits for imported Russian made ammunition and firearms.
- The move is an attempt by the U.S. State Department to punish the Russian Federation for the August 2020 poisoning of a Russian opposition figure.
- Ammunition availability, already strained, will worsen as the popular Russian ammo starts to disappear from the marketplace.
- According to the National Shooting Sports Foundation, importation permits that have already been issued will remain in force until they expire, which could take up to two years.
This last point is important. Russian ammunition will not dry up immediately. In fact, it can still be found at many online ammunition sites including:
Sportsman's Guide - Wolf Ammunition and Tula Ammunition (Both In Stock at this writing)
Palmetto State Armory - Wolf Ammunition and Tula Ammunition (Both Out-Of-Stock at this writing, but inventory updates daily)
Lucky Gunner - Limited selection of Wolf Ammunition
Much of the ammunition imported from Russian is steel cased which usually means a lower price. This is not universally true however, with the Wolf Gold line being a good example. This is brass cased ammunition that is highly thought of for its reliability and accuracy.
See our article Best places to Buy Ammo Online
See also Best Places to Buy Guns Online
Recent Posts
Shopping for body armor online? There are many good online stores to choose from. Check …

Better selection, better prices. That is why I buy guns online and you should too! There …

The Maglula UpLULA Universal Pistol Magazine Speed Loader. Funny name, great product! Lo …